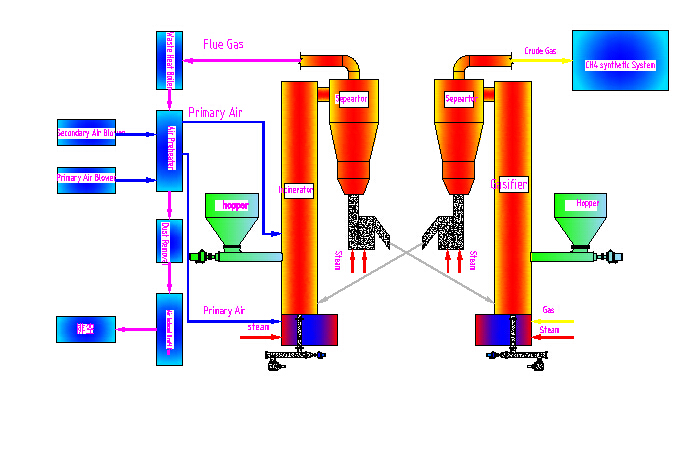 Biomass Dual fluidized bed Gasification system and process of synthetic biomass gas to be Ch4
1.Tehnical process of Dual Fluidized Bed sythetic CH4
Use dual fluidizedbed gasification unit to produce syngas ,the syngas is cooled ,clean and converted unit to get suitable syngas which meet mole ration of coverting CH4. Suitable syngas is converted to high density CH4 through sythetize synga. The thermal from reaction is collected by boiler in order to output power or steam. CH4 pass though seperating process to further improve the purity of CH4.
2. Dual fluidized bed gasification technology
Use air as gasify agent, the syngas is mainly co and H2 from dual fluidizedbed gasifier. Because the process do not need pure oxygen, the investment is low ,CH4 in syngas is over 10%. It is better for subsequent synthetic.
3. Working Parameter
NO.

Item

Units

Data

20t/h(Biomass)

2×20t/h(Biomass)

1

Net. Gas Rate

Nm3/h

18696

37392

2

Annually Net. Gas Rate

万Nm3/a

14022

28044

3

Dry Gas Composition

3.1

H2

%

39.1

3.2

CO

%

27

3.3

CO2

%

18

3.4

CH4

%

10

3.5

O2

%

0.05

3.6

C2H4

%

2

3.7

C2H6

%

0.5

3.8

C3H6

0.3

3.9

C3H8

%

0.2

3.10

N2

%

2.5

3.11

NH3

%

0.28

3.12

H2S

%

0.07

4

Crude gas LCV

kJ/Nm3

13196

5

Crude Gas HCV

kJ/Nm3

14497

6

Biomass OIL Rate

t/h

0.2

0.4

7

Annually Biomass Oil Rate

t/a

1500

3000

8

Steam Rate

(use the waste heat to get steam)

t/h

19.25

38.5