Biomass Gas Combust with coal boiler to output power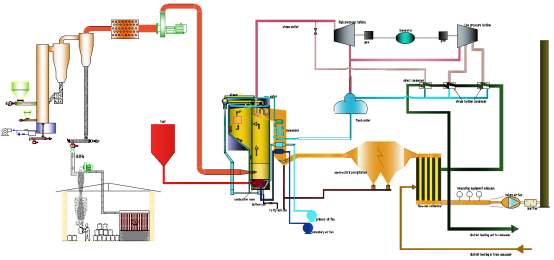 Diagram
1. Biomass
Rice husk, Straw, saw dust, bamboo dust etc.
2. Products
Power
3. Technical Features
a.Output with high efficiency
Biomass is efficiently covnerted into syngas in circulation fluidizedbed gasifier ,the syngas is directly sent to boiler to combust with pulverized coal.
The output efficient :>32%,0.8kg biomass can produce 1kw.h electricity ,which is much higher than the efficiency (20%~25%) of direct combustion technology.
b.Avoid alkali metal corroding heat surface of boiler
The biomass ash is collected before boiler, which will not corrode boiler
C. Clean ,no pollution
The technical process has no tar pollution
D. Smart
Avoid the biomass seasonal changes
4. Working Parameter
no.

Item

unit

data

Saw dust/bamboo dust

straw

1

Gas rate

Nm3/kg

2.5

2.2

2

Gas heat value

kcal/Nm3

1100~1200

1050~1150

3

Biomass consumption

kg/kW.h

0.7

0.8