Anhui provincial Party committee, energy, resources and Environment Committee, provincial environmental protection branch visited Hefei Debo Bioenergy Science&Technology Co.,Ltd.
On September 12th,Anhui provincial Party committee,energy,resources and Environment Committee,provincial environmental protection branch went to Hefei Debo Bioenergy Science&Technology Co.,Ltd.to investigate the the utilization of the "industrial,agricultural and energy integration technology"for the gasification of agricultural and Forestry wastes, so as to help the enterprises grow rapidly and healthily.Jiaquan Wang , chairman of Anhui provincial Party committee and director of Anhui ecological engineering technology research center,Wanping Zhao,chairman of civil construction, vice president of Anhui Academy of Agricultural Sciences and deputy to the National People's Congress, and leaders of Organization Department and Publicity Department of Anhui Provincial Committee of civil engineering participated in the survey.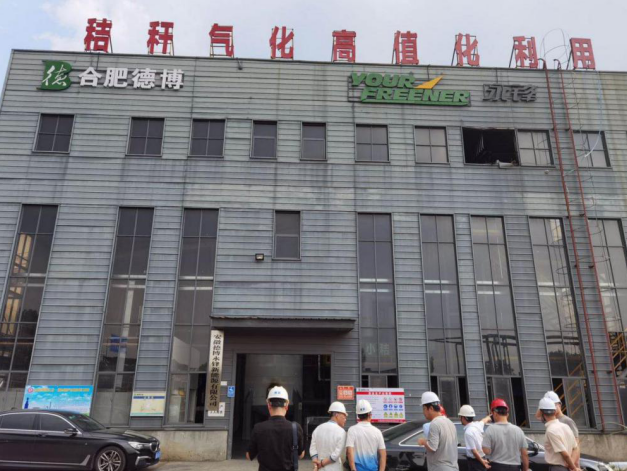 The committee members first came to the site of Feixi biomass gasification for heating combined charcoal production project, and successively inspected the raw material workshop, gasification heating workshop, intelligent control room and biochar workshop. The project is invested and constructed by Anhui Debo Yongfeng new energy Co., Ltd., with a total investment of 15 million yuan. Hefei Debo bioenergy Technology Co., Ltd. provides equipment and technical support. The project uses straw, rice husk, sawdust and other agricultural and forestry wastes as raw materials,uses pyrolysis and gasification process, and provides heat source for 10t / h biogas boiler with clean gas, and generates more than 10000 tons of charcoal annually for soil remediation, water purification and production of carbon based organic fertilizer can save more than 4 million yuan of steam cost annually for heat consuming enterprises, and the payback period of project investment is less than 2 years, which creates extremely high economic, social and environmental benefits.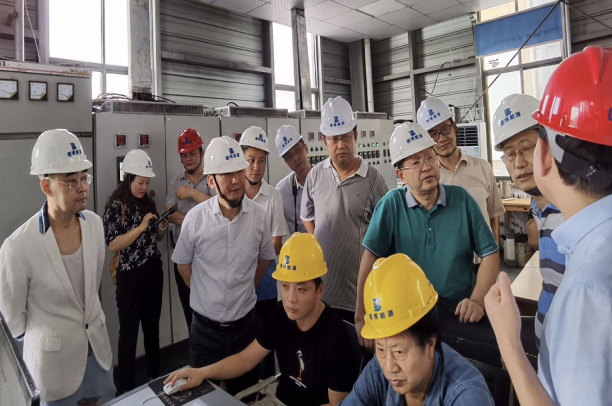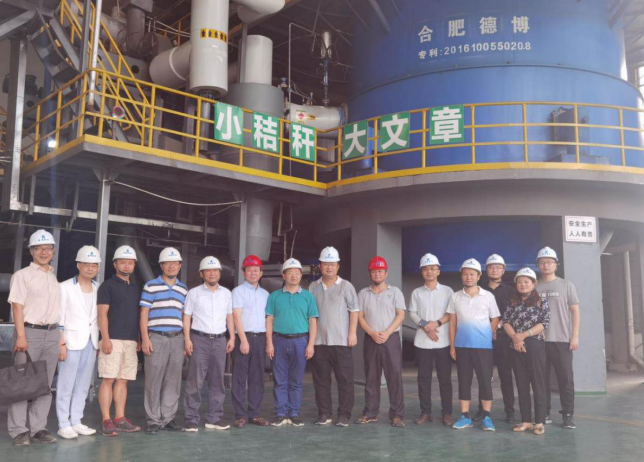 After the on-site investigation of the project, the leaders of Anhui Provincial Committee of democratic construction of China came to Hefei Debo engineering technology center of high tech Zone for discussion and exchange, which was presided over by Jian Xu , chairman of environmental protection branch of Anhui provincial Party committee. Chairman Jian Xu said that Debo company is not only a high-tech enterprise for straw gasification equipment manufacturing in our province, but also an investment and operation enterprise for comprehensive utilization of straw. It attaches importance to personnel training and has built an academician workstation in Anhui Province. Biomass gasification equipment has been exported to Europe, Southeast Asia and other countries. Shoujun Zhang , the founder of the enterprise, is a member of the environmental protection branch of Anhui Province of China Civil Construction Corporation. After more than 12 years of unremitting efforts, Debo has led the team It has made great contributions to the clean utilization of agricultural and forestry wastes in our province and even the whole country. Afterwards, Wanbao Lu , vice general manager of Debo, reported the project approval, construction and operation of Feixi project; Chairman Zhang Shoujun introduced the company's development history and operation status, focusing on biomass gasification heating technology, biomass gasification polygeneration technology, biomass gasification coupled coal-fired power generation technology, biomass gasification to produce natural gas / hydrogen and other technologies.
Keming Qin , director of publicity and Jin Zhang , director of organization, put forward reasonable suggestions and guiding opinions on supporting the rapid and healthy development of civil construction member enterprises, believing that this activity is of great significance.
Wanping Zhao, chairman of the committee, said that Debo technology will make full use of all the agricultural and forestry wastes, and let the biochar return to the soil according to the principle that everything is recycled. It is gratitude and reward to the earth mother. It is not only a road of scientific circulation, but also a road of poverty alleviation. Shoujun Zhang , chairman of the board of the enterprise, expressed admiration for his courage to grow from a teacher step by step into a technological and innovative entrepreneur, and encouraged him to continue to give full play to the advantages of agricultural science and technology of enterprises and serve "agriculture, rural areas and farmers". He also said that he would promote it as a deputy to the National People's Congress!
Chairman Jiaquan Wang said that Debo has only done one thing for more than ten years, especially to solve the tar problem in the process of biomass gasification. It is an emerging enterprise led by scientific and technological innovation. It encourages Debo to continue its efforts, take scientific and technological research and development as the core, strengthen brand building and technology accumulation, and take the comprehensive utilization of straw to a new level. He hopes that Debo will join with Anhui Academy of Agricultural Sciences Hefei University of technology and other units set up the national straw gasification comprehensive utilization engineering center.
Members at the meeting expressed their opinions and highly appraised the multi-combined production technology of Debo company. They believed that this technology not only solved some international problems, but also created a good operation mode, and there was no secondary pollution in the process. It was worth popularizing and applying in China.